Gotta go with the one bearing the initials "J.C." --- know what I mean? ;)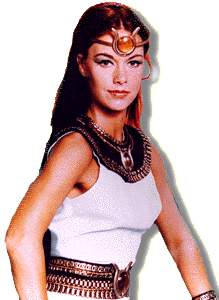 Who needs The Power Princesses (whether they are called She-Ra, Sailor Moon, Xena or even Diana/Artemis Wonder Woman and the legendary archetype she took after for that matter!)
Who needs any of those - when one has
Joanna Cameron
- Isis herself - to save your hide?
;)
(Yeah, okay: ''Isis''... So nobody's perfect, eh? Cut her some slack! She's really just
Joanna
!)
With apologies to both
Lynda Carter
and
Lindsay Wagner
- I'll put my safety into the hands of gentle Joanna I think! After all, Joanna's not selling eyewear or mattresses nowadays - she is providing health care!
Good, hearty and heartful advice!
And... womentoring.
It truly is a no-brainer! ;)
...
Labels: advertisements, cartoons, childhood reminiscence, old favorites, television shows